The most common question asked these days is what to check when buying a used phone. There are so many mobile manufacturers these days that it is hard to keep track of the phone model and specifications and what to check to buy a used phone. There are risks associated when trying to buy a used phone especially when you have no idea what to check for in a used phone. But don't worry, this guide should help identify any problems and narrow down the associated risks. Also, used phones are arguably better bang for your buck.
Why Used Phones are Better:
This may not be applicable to everyone because if you do not need to save those 400-500 dollars from your mobile purchase just want to buy a new mobile, you are better off buying a new mobile.
However, if are among those who want to save money. I will tell you why it is better to buy a used phone instead of a new phone.
The battle will always be between last year's flagship phone (top of the line phone from any company is called flagship) and mid-range phone the same year. For comparison, let's pick Samsung s9 which is a flagship for 2018 is around 400 dollars on eBay or even less and Samsung A70 which is a mid-ranger for 2019. Besides the so-called futuristic design of A70. Everything in s9 is better than the A70 and yes even the camera.
We have made a comprehensive list of everything that you need to know when buying a used phone.
Physical Condition:
As obvious as it sounds, checking a used phone before buying physically is just as important as checking its internals.
Screen and camera lens scratches ( minor and deep scratches)
Dust inside camera lenses (front and back)
Check for buttons clickiness (lock screen and volume buttons)
Check for screws wear and tear
Press the phone from all four corners along the cross-section to check any inconsistencies in the phone frame. There should be no space along the corners while pressing the phone.
Check for rusting or dust inside the charging port and the 3.5mm headphone jack(if available) using a flashlight.
IMEI Checking:
It is really important to check if the used phone is stolen or blacklisted. IMEI number is a 15 digit number unique for each phone (note: there are two IMEI's for dual sim phones). To check the IMEI number on any phone dial * #06#. This step is important as it will help figure out if the phone is stolen or not. A general guide is to just google "IMEI blacklist" followed by your region. A reference site is
iPhone users can check a lot more though. Check, if the activation lock has been activated. If the activation lock is activated, ownership can not be transferred.
https://support.apple.com/en-us/HT201365
Check the warranty status of the iPhone by using the link below:
https://checkcoverage.apple.com/
Hardware
This is part where you check the used phone thoroughly. This is one of the easiest steps because of the applications developed for each operating system i.e. Android and iOS.
For Android users: Phone Doctor Plus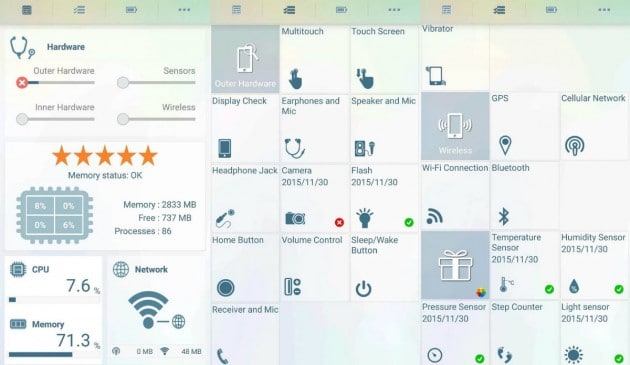 For iPhone Users: Reglobe
This application is used for selling and buying phones but it is still really good for checking iPhones.
Go through each and every step from the apps.
Phone doctor plus and Reglobe both have a lot of things to check. So it will take some time to go through every step but it is totally worth it.
After all, you are spending a hefty amount on your phone. So patience is necessary.
Both apps are free to use and easy to operate. For most of the phones, just running the tests on these applications is enough. Congrats, If your used phone has made this far. It is time to move on to the next step.
Screen:
At this point, here should be no major concerns with the used phone you are trying to buy. But just to make sure everything is alright, let's check the screen. The screen is the most fragile and expensive part of a phone. Sometimes, we have to buy a used phone with a replaced screen and it not even noticeable in some phones. But a replaced screen might not be bad as long you check it thoroughly.
Check the following:
Ghosting /Shadowing(Burn-in)
In ghosting, a text is permanently printed on to the screen. It is due to a static image or icons being displayed on the screen for prolong time. It is often observed as on-screen navigation buttons. This behavior is mostly observed in high-end phones with OLED display technology. But you may not need to worry about it as most phones are still using conventional LCD technology. They don't suffer from the same ghosting issues as OLEDs do. In case you're wondering that if your phone has LCD or OLED, you can go through sites like gsmarena.com and phonearena.com. If you buy a used phone which has this ghosting issue, the only solution is to replace the screen which is pretty expensive.
Number of touches
This is a very important point. The thing is we check the screen for shade, burn-in, and colors but we forget to check if the number of touches and response time of the display is normal or not. I bought a mobile once which was perfect in each and every aspect. But like most of us, I forgot to check touch latency and the number of maximum touches (normally 10). You can use the multi-touch option from the 'phone doctor plus' app. The phone had only a maximum of 5 touches instead of 10.
Battery
The battery of the used phone is one of the tricky things to check. But if you have time to check like 4-5 hours then it is somewhat easy.
One method is to just use the camera to get an idea of battery. Open the camera app of the used phone and select burst or just hold the capture button for some time. The phone should start taking multiple photos. Take like 150-200 photos and check the battery. Battery consumption should not be more than 5-10%. Another method is to run a stress test or benchmark. I have listed benchmark software that you can use later on in this article.
Just ask for 2-3 days of warranty from your buyer and check the battery of the mobile by running a battery benchmark using 'Antutu' or 'Geekbench'. You can get these apps from Playstore or Appstore.
Headphone Jack
If there is a headphone jack on the used phone you are buying. Check the 3.5mm jack using a 2 pins handsfree( handsfree without a mic) and 3 pins handsfree(handsfree with stereo and mic). Make sure to check a couple of different brands of handsfree. Sometimes 3 pins handsfree which is the one with mic does not work always on the used phone.
Check the connectivity of Bluetooth handsfree by connecting and disconnecting a couple of times and connecting different handsfree. The range of the handsfree should be more or less 10m for Bluetooth less than 5.0. If your phone has aptX, use aptX compatible handsfree to check if it is working or not.
Network
You might have checked the used phone for a lot of things and it might be perfect, but it is still useless if your used phone does not support your network provider or sim.
Now, this will vary from country to country. But I will teach you to search for it on your own.
For instance, If I am trying to find this in Pakistan. I would google search like "gsm bands in Pakistan". I found a website
https://ipfs.io/ipfs/QmXoypizjW3WknFiJnKLwHCnL72vedxjQkDDP1mXWo6uco/wiki/List_of_mobile_network_operators_in_Pakistan.html
Now search your mobile on google. Let's say I want to search galaxy s9 G960U. Google "Samsung s9". Open GSM Arena for your mobile. Select the version of the mobile you are buying. In my case, I selected G960U
Now just compare the network bands for each of the protocols 2G,3G,4G. If you have further questions about this. You can ask us in the comments.
Benchmarking
This is for tech nerds who want to check the benchmark scores of the used phone and compare it with the reference mobile to see how much difference there is. You can skip this part if you have no interest in this. I will discuss different types of benchmarks. Every benchmark test has a different purpose.
Processor and battery: Geekbench
For Storage: Androbench
Gaming and 3D: 3DMARK
Overall performance of the Phone: Vellamo, Antutu